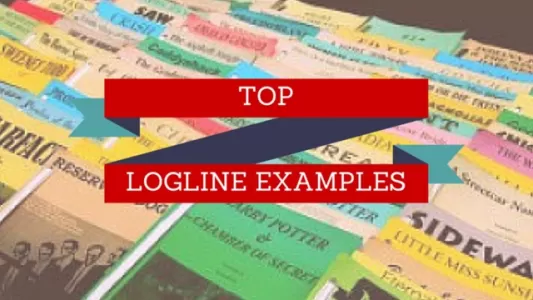 Logline Examples
Film and TV logline examples are short paragraphs (25 - 50 words) you find in movie guides that promotes and hook the audience to watch the film. Loglines are also used to pitch a film or tv series to industry professionals for development and financing.
Goal of a Logline
The purpose of a logline is to lay out the key parts of your screenplay that includes the main character, their goal and conflict in an intriguing way, but never gives away the ending.
Imagine you have a Producer standing in front of you in an elevator, now pitch your film in 10 seconds. The logline is your core selling point.
Logline Length
How many words in a Logline?
The length of a logline is just one or two clear, short sentences between 35 - 50 words that describes your screenplay main characters, setting, plot and genre to explain what the movie is about.
Logline vs Tagline
The difference between a logline and a tagline is the logline is an informative description you find in tv guides, while the tagline is the slogan up to 5 words that you find on a film poster.
Logline vs Synopsis
The difference between a logline (30 - 50 words) and a synopsis (up to 500 words) a synopsis is the length.  The synopsis a one-page summary of a script that presents a scene-by-scene breakdown of the film storyline. Screenwriter often pitch a film synopsis to producers before writing the full screenplay.
Film Logline Examples
Use the best film logline examples to perfect your logline and highlight the most intriguing aspects of the plot in order to captivate the reader. 
Short Film Logline Examples
Use the short film logline examples which are 1 or 2 sentences long to pitch the short film to the audience, making them want to watch a movie.
TV Series Logline Examples
Use the TV series logline examples to pitch television industry executives to be optioned (or developed) into a television series.
Comedy Logline Examples
Learn from comedy logline examples on how to write your logline.
Romance Logline Examples
Learn from romance logline examples on how to write your logline.
The Valet: A movie star enlists a parking valet at a Beverly Hills restaurant to pose as her lover to cover for her relationship with a married man.
Toscana: When a Danish chef travels to Tuscany to sell his father's business, he meets a local woman who inspires him to rethink his approach to life and love.
Titanic: A seventeen-year-old aristocrat falls in love with a kind but poor artist aboard the luxurious, ill-fated R.M.S. Titanic.
Casablanca: A cynical expatriate American cafe owner struggles to decide whether or not to help his former lover and her fugitive husband escape the Nazis in French Morocco.
The Lost City: A reclusive romance novelist on a book tour with her cover model gets swept up in a kidnapping attempt that lands them both in a cutthroat jungle adventure.
The Valet: A movie star enlists a parking valet at a Beverly Hills restaurant to pose as her lover to cover for her relationship with a married man.
Toscana: When a Danish chef travels to Tuscany to sell his father's business, he meets a local woman who inspires him to rethink his approach to life and love.
Three Thousand Years of Longing: A lonely scholar, on a trip to Istanbul, discovers a Djinn who offers her three wishes in exchange for his freedom.
The Power of the Dog: Charismatic rancher Phil Burbank inspires fear and awe in those around him. When his brother brings home a new wife and her son, Phil torments them until he finds himself exposed to the possibility of love.
Crazy, Stupid, Love: A middle-aged husband's life changes dramatically when his wife asks him for a divorce. He seeks to rediscover his manhood with the help of a newfound friend, Jacob, learning to pick up girls at bars.
Twilight: When Bella Swan moves to a small town in the Pacific Northwest, she falls in love with Edward Cullen, a mysterious classmate who reveals himself to be a 108-year-old vampire.
Pride and Prejudice: Sparks fly when spirited Elizabeth Bennet meets single, rich, and proud Mr. Darcy. But Mr. Darcy reluctantly finds himself falling in love with a woman beneath his class. Can each overcome their own pride and prejudice?
The Proposal: A pushy boss forces her young assistant to marry her in order to keep her visa status in the U.S. and avoid deportation to Canada.
Clueless: Shallow, rich and socially successful Cher is at the top of her Beverly Hills high school's pecking scale. Seeing herself as a matchmaker, Cher first coaxes two teachers into dating each other.
Stars at Noon: In 1984's Nicaragua, a mysterious English businessman and a headstrong American journalist strike up a romance as they soon become embroiled in a dangerous labyrinth of lies and conspiracies and are forced to try and escape the country.
Something Wild: A free-spirited woman "kidnaps" a yuppie for a weekend of adventure. But the fun quickly takes a dangerous turn when her ex-convict husband shows up.
The Great Gatsby: A writer and wall street trader, Nick, finds himself drawn to the past and lifestyle of his millionaire neighbor, Jay Gatsby.
Grease: Good girl Sandy Olsson and greaser Danny Zuko fell in love over the summer. When they unexpectedly discover they're now in the same high school, will they be able to rekindle their romance?
Beauty and the Beast: A selfish Prince is cursed to become a monster for the rest of his life, unless he learns to fall in love with a beautiful young woman he keeps prisoner.
Sleeping Beauty: A haunting portrait of Lucy, a young university student drawn into a mysterious hidden world of unspoken desires.
Bridesmaids: Competition between the maid of honor and a bridesmaid, over who is the bride's best friend, threatens to upend the life of an out-of-work pastry chef.
Forgetting Sarah Marshall: Devastated Peter takes a Hawaiian vacation in order to deal with the recent break-up with his TV star girlfriend, Sarah. Little does he know, Sarah's traveling to the same resort as her ex - and she's bringing along her new boyfriend.
La La Land: While navigating their careers in Los Angeles, a pianist and an actress fall in love while attempting to reconcile their aspirations for the future.
You've got Mail: Book superstore magnate, Joe Fox and independent book shop owner, Kathleen Kelly fall in love in the anonymity of the Internet both blissfully unaware that he's trying to put her out of business.
Horror Logline Examples
Learn from horror logline examples on how to write your logline.
Psycho: A Phoenix secretary embezzles $40,000 from her employer's client, goes on the run, and checks into a remote motel run by a young man under the domination of his mother. / An Alfred Hitchcock Masterpiece
Rear Window: A wheelchair-bound photographer spies on his neighbors from his apartment window and becomes convinced one of them has committed murder. / It only takes one witness to spoil the perfect crime
The Silence of the Lambs: A young F.B.I. cadet must receive the help of an incarcerated and manipulative cannibal killer to help catch another serial killer, a madman who skins his victims. / From The Terrifying Best Seller
Alien: The crew of a commercial spacecraft encounter a deadly lifeform after investigating an unknown transmission.
Psycho: A Phoenix secretary embezzles $40,000 from her employer's client, goes on the run, and checks into a remote motel run by a young man under the domination of his mother.
The Shining: A family heads to an isolated hotel for the winter where a sinister presence influences the father into violence, while his psychic son sees horrific forebodings from both past and future.
The Exorcist: When a 12-year-old girl is possessed by a mysterious entity, her mother seeks the help of two priests to save her.
Rosemary's Baby: A young couple trying for a baby moves into an aging, ornate apartment building on Central Park West, where they find themselves surrounded by peculiar neighbors.
Night of the living dead: A ragtag group of Pennsylvanians barricade themselves in an old farmhouse to remain safe from a horde of flesh-eating ghouls that are ravaging the East Coast of the United States.
Frankenstein: Dr. Frankenstein dares to tamper with life and death by creating a human monster out of lifeless body parts.
Halloween: Fifteen years after murdering his sister on Halloween night 1963, Michael Myers escapes from a mental hospital and returns to the small town of Haddonfield, Illinois to kill again.
The Birds: A wealthy San Francisco socialite pursues a potential boyfriend to a small Northern California town that slowly takes a turn for the bizarre when birds of all kinds suddenly begin to attack people.
Zombieland: A shy student trying to reach his family in Ohio, a gun-toting bruiser in search of the last Twinkie and a pair of sisters striving to get to an amusement park join forces in a trek across a zombie-filled America.
Saw: Two strangers awaken in a room with no recollection of how they got there, and soon discover they're pawns in a deadly game perpetrated by a notorious serial killer.
American Psycho: A wealthy New York City investment banking executive, Patrick Bateman, hides his alternate psychopathic ego from his co-workers and friends as he delves deeper into his violent, hedonistic fantasies.
The Fly: A brilliant but eccentric scientist begins to transform into a giant man/fly hybrid after one of his experiments goes horribly wrong.
A Quiet Place: In a post-apocalyptic world, a family is forced to live in silence while hiding from monsters with ultra-sensitive hearing.
An American Werewolf in London: Two American college students on a walking tour of Britain are attacked by a werewolf that none of the locals will admit exists.
The Omen: Mysterious deaths surround an American ambassador. Could the child that he is raising actually be the Antichrist? The Devil's own son? 
Dracula: The centuries old vampire Count Dracula comes to England to seduce his barrister Jonathan Harker's fiancée Mina Murray and inflict havoc in the foreign land.
Jacob's Ladder: Mourning his dead child, a haunted Vietnam War veteran attempts to uncover his past while suffering from a severe case of dissociation. To do so, he must decipher reality and life from his own dreams, delusions, and perceptions of death.
Carrie: Carrie White, a shy, friendless teenage girl who is sheltered by her domineering, religious mother, unleashes her telekinetic powers after being humiliated by her classmates at her senior prom.
The Haunting: Hill House has stood for about 90 years and appears haunted: its inhabitants have always met strange, tragic ends. Now Dr. John Markway has assembled a team of people who he thinks will prove whether or not the house is haunted.
Split: Three girls are kidnapped by a man with a diagnosed 23 distinct personalities. They must try to escape before the apparent emergence of a frightful new 24th.
PI: A paranoid mathematician searches for a key number that will unlock the universal patterns found in nature.
Scream: A year after the murder of her mother, a teenage girl is terrorized by a new killer, who targets the girl and her friends by using horror films as part of a deadly game.
Possession: A woman starts exhibiting increasingly disturbing behavior after asking her husband for a divorce. Suspicions of infidelity soon give way to something much more sinister.
Eraserhead: Henry Spencer tries to survive his industrial environment, his angry girlfriend, and the unbearable screams of his newly born mutant child.
Logline Examples by Genre
Here are ten logline examples across various genres:
 Sci-Fi: "In a post-apocalyptic world where memories can be traded, a young woman with a unique ability becomes the target of power-hungry factions, forcing her to choose between her survival and the future of humanity."
Romantic Comedy: "When a cynical wedding planner, recovering from a failed romance, is assigned to plan her ex-boyfriend's wedding, she must confront her past feelings and ensure the wedding goes off without a hitch."
Fantasy: "Trapped in a mystical land ruled by dragons, a timid librarian discovers she's the last Dragon Whisperer and must rally an unlikely group of allies to prevent an eternal war."
Horror: "After moving into a secluded mansion, a family discovers it's inhabited by vengeful spirits of its previous owners, and they must solve the house's mystery before becoming permanent residents."
Drama: "A renowned pianist, diagnosed with a degenerative hearing disorder, embarks on a journey to reconnect with his estranged family before his world goes silent."
Action: "When a retired hitman's daughter is kidnapped by his old enemies, he's forced back into the underworld for one final mission to save her, unraveling dark secrets along the way."
Historical: "During WWII, a fearless nurse in occupied France joins the resistance to save Jewish children from Nazi persecution, risking her life and confronting personal betrayals."
Thriller: "A tech-savvy journalist stumbles upon a global conspiracy when her artificial intelligence assistant starts sending her cryptic messages, leading her down a dangerous path of secrets and lies."
Mystery: "In a sleepy coastal town, a detective with a troubled past is drawn into a complex web of intrigue when a series of seemingly unrelated murders all point to a decades-old secret."
Adventure: "Tasked with finding a legendary lost city in the Amazon, a bumbling professor and a cunning thief form an unlikely alliance, navigating treacherous terrains and battling rival explorers."
These logline examples illustrate the range and flexibility of loglines, showcasing character, conflict, and stakes in just a sentence or two.
Logline Writing Tips
Loglines have the following qualities.
The logline example creates a visual world in the readers mind.
The logline describes how the journey begins.
The audience roots for the character to succeed.
Summary
The logline is your core selling point when you pitch a film or TV show to film producers and execs. The length of a logline varies from between 35 - 50 words to describe the main characters, setting, plot and genre of the film. Loglines are also used to pitch films and TV shows to industry professionals for development and financing.